Body Sculpting with CoolSculpting®
Are you tired of the doing all the work and not really seeing the Results? CoolSculpting can help.
Try the #1 Non-invasive Fat reduction treatment in the world!
Get 20% off your first treatment.
Enter your information and we will automatically send you your coupon for 20% off your first treatment*
(Individual results may vary)
Colorado Laser Spa offers body sculpting services through the innovation of CoolSculpting®. At our advanced aesthetics medical spa, you can freeze fat away with cool sculpting treatments that are non-invasive and require zero downtime for recovery. This cutting-edge technology allows you to contour your body to achieve your desired look without changing your lifestyle or undergoing surgery.
(Individual results may vary)
(Individual results may vary)
Interestingly, the idea of cool sculpting began with children eating popsicles. While conducting experiments at Harvard University, researchers discovered that some children who consumed popsicles developed dimples in their cheeks. This led Dr. Dieter Manstein and Dr. R. Rox Anderson to determine the popsicles were freezing small pockets of fat cells within the children's cheeks without negatively affecting the surrounding tissue. This led to the discovery of cryolipolysis or the use of localized cold to freeze fat cells. Today, we know this science as CoolScultping®.
Using CoolSculpting® technology, the professionals at Colorado Laser Spa target and deliver precisely controlled cooling to freeze and eradicate stubborn fat cells without damaging surrounding tissues. Over time, the treated fat cells gradually die off and are disposed of through your body's natural processes. That means you can freeze your fat away for good!
Coolsculpting® procedures take between one and three hours per session. The number of sessions you will require may vary depending on the amount of work that you wish to have done and your body. It requires no anesthesia or recovery time and is virtually pain-free. Once we freeze your fat cells at our med spa, they disappear, leaving behind a more sculpted body.
Body sculpting isn't just for women. Many gentlemen have also experienced great success with CoolSculpting® for men. Regardless of sex, terrific results can be achieved on various areas of the body. Whether you want to lose belly fat, sculpt your inner or outer thighs, or get rid of the extra fat under your chin, the experienced professionals at our medical spa are here to assist you in achieving the look you desire so you can feel better about yourself. 
Some of the FDA approved target areas we treat for fat reduction with CoolSculpting® include: 
Stomach 
Flanks 
Back 
Arms 
Inner and Out Thighs 
Distal knee 
Bra Fat front and back 
Submental (under the chin) 
Take a look at some of the great results people get with CoolSculpting 
(Individual results may vary)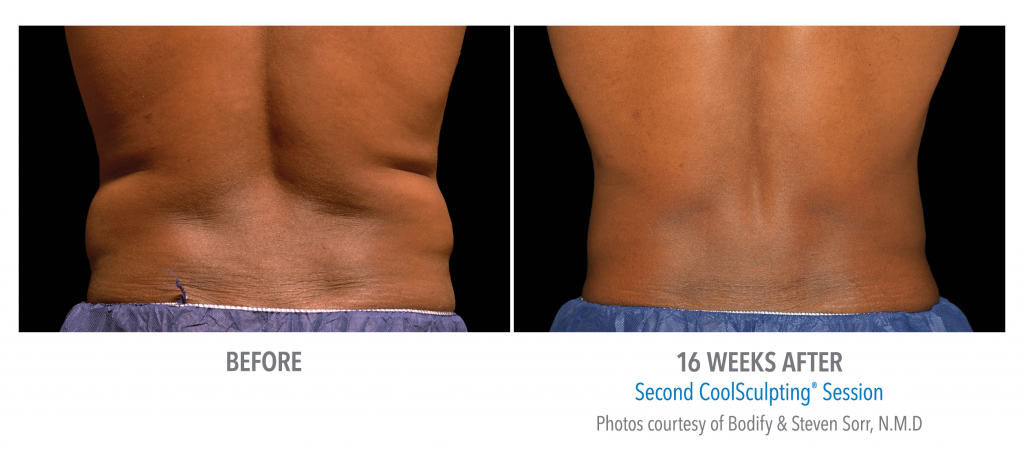 (Individual results may vary)
(Individual results may vary)
(Individual results may vary)
(Individual results may vary)
(Individual results may vary)
(Individual results may vary)
(Individual results may vary)
The Difference Between Weight Loss and Fat Loss
Many people confuse weight loss and the loss of fat. As teenagers, our bodies typically develop a fixed number of fat cells. As we gain weight, our fat cells become larger. When we lose weight, our fat cells shrink in size. Thus, losing or gaining weight doesn't change the number of fat cells we already have. 
CoolSculpting® works differently. It doesn't shrink your fat cells. It irradiates them. With cool sculpting, you will actually decrease the number of fat cells in treated areas by roughly 20 to 25 percent! Cool sculpting does not help you lose weight. It does help you lose unwanted fat so your clothes fit more comfortably, you look slimmer, and you can feel better about your appearance 
CoolSculpting Side Effects
As with any procedure, you may experience some side effects. During your treatment, you may experience mild pulling, tugging, pinching, intense cold, tingling, stinging, cramping or aching. This typically subsides as the area becomes numb from the cold. You may also experience some side effects following the procedure such as temporary redness, swelling, bruising, or tenderness. You may even experience some cramping, itching, or skin sensitivity. With treatments near the neck and chin, you may also experience a sensation of fullness in the back of the throat. The good news is these effects are temporary and generally resolve within a few days or weeks. Learn more about what to expect from your CoolSculpting® experience. 
At Colorado Laser Spa, the Gunnison Valley's only advanced aesthetics medical spa, we use the latest in body sculpting technology to freeze your fat leaving you feeling better about yourself, which contributes to your total wellness. Our on-site physician and trained personnel are ready to help you achieve your body sculpting goals. Come experience what science can do for you and your sense of self with CoolSculpting®. 
*limited to 4 cycles for first treatment and all 4 cycles must be completed in same visit. Offer cannot be combined with any other offers and promotions. offer subject to change