Schedule a Free Consultation
New client? Receive 20% off on your first treatment
SKIN TIGHTENING & CELLULITE TREATMENTS
If you are tired of the dimpled look of cellulite on your arms, abdomen, or thighs, Colorado Laser Spa has the radiofrequency technology to reduce the appearance of cellulite. Using the radiofrequency technology behind the TempSure™ Envi by Cynosure®, the specialists at Colorado Laser Spa provide radiofrequency treatments that feel terrific and leave you looking great!
The TempSure™ Envi treatments at our advanced aesthetics medical spa feel like a relaxing, hot stone massage as we use targeted radiofrequency energy to reduce the appearance of cellulite. This pain-free, non-invasive radiofrequency technology heats the skin's derma and subcutaneous layers up to 42° C (107.6° F). This heating of the skin induces collagen production in the body. It also remodels your existing collagen for a smoother appearance.
Cellulite treatments last between 30 minutes and an hour each. Following your TempSure™ Envi treatment, you'll feel relaxed and refreshed so you can go on with your day. You will be able to resume your normal lifestyle with absolutely zero recovery time. After a few treatment sessions over a set interval schedule, you will begin to experience the optimal results of new collagen growth with this skin-tightening treatment. You'll notice a marked decrease in the appearance of cellulite in the treated areas.
The experienced professionals at Colorado Laser Spa can help you achieve a reduction in the appearance of cellulite in several areas including:
Arms
Abdomen
Buttocks
Thighs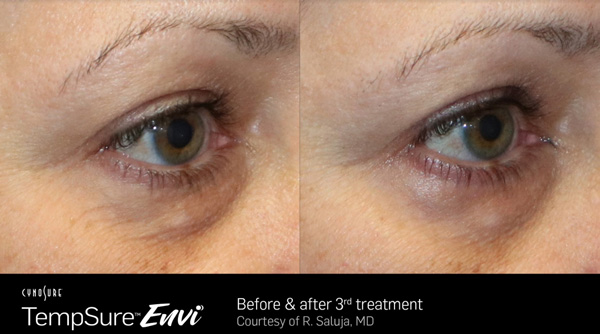 One of the best benefits of the 
TempSure™
Envi is its ability to turn back time through skin-tightening which reduces the appearance of facial fine lines and wrinkles. Just as the radiofrequency technology can reduce the appearance of cellulite, it can also be used as an anti-aging treatment. Regardless of your skin type or level of sun exposure, the technology behind the TempSure™ Envi is gentle enough to use on the face to boost your beauty regimen, erasing years of wrinkles and fine lines. The radiofrequency heats up the skin to stimulate your body's production of collagen, creating a smoother appearance in the skin over time. You can battle the natural aging process with regular treatments through the growth of new collagen fibers to support stronger, smoother, youthful-looking skin. Through the radiofrequency treatments at the Gunnison Valley's only advanced medical aesthetics spa, we use soft-tissue coagulation to treat and reduce the appearance of the following:
Fine Facial Lines
Facial Wrinkles
Loose or Sagging Skin
Crow's Feet
Forehead Wrinkles
Smile, Laugh, and Frown Lines
You'll experience little to no pain during the treatments which require no recovery time so you can get on with your life. Look years younger and feel better with skin-tightening treatments at Colorado Laser Spa!
What to Expect During and After Your Treatment
During your treatment, you will experience a gentle warming sensation around the target areas being treated. Most treatments last between 30 minutes and an hour depending on which areas you are having treated. Most patients feel no pain or discomfort during the radiofrequency treatments with the TempSure™ Envi. After your treatment, there is typically a slight redness of the treated area which generally subsides quickly. You can immediately return to your normal activities without any downtime.
It's best to schedule a series of treatments at our medical spa within a given period of time to achieve the best results. You can discuss your goals with Dr. Niccoli and our staff during your initial consultation to determine how many treatments will be needed over what period of time to achieve your goals. Once you have reached your desired appearance, we recommend planning for ongoing treatments to help your body counteract the normal aging process and retain its smooth, youthful look. Just as you have your hair and nails done, TempSure™ Envi treatments can become a regular addition to your beauty regimen.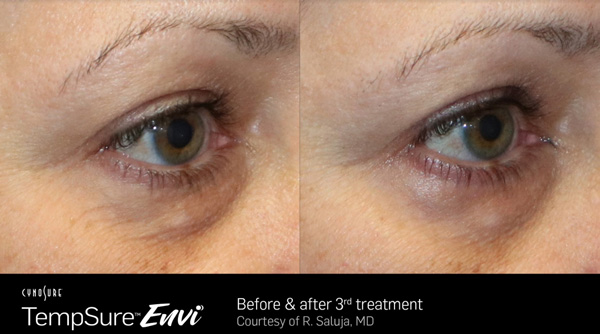 Want to take advantage of our best treatments so you can see your results NOW?
Want it with an affordable payment plan?
Check our our Financing Options with Greensky, (including 0% Interest for 12 months!) Click the button to find out if you qualify.