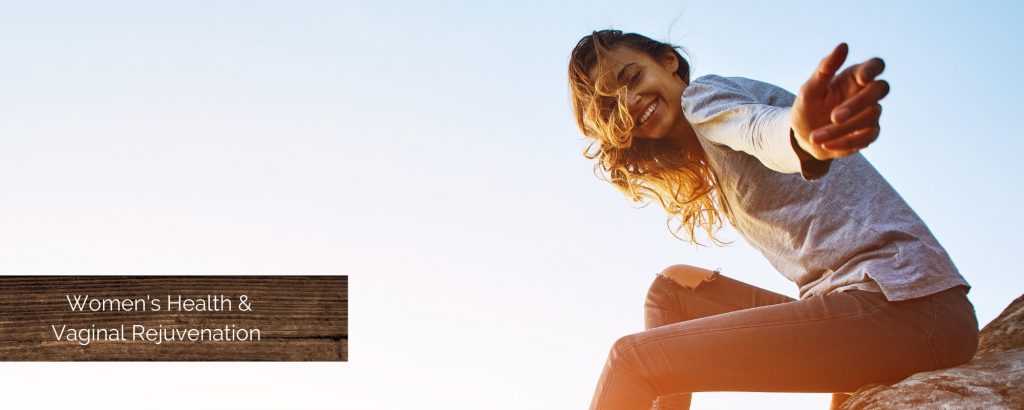 Schedule a Free Consultation
New client? Receive 20% off on your first treatment
GYNECOLOGIC HEALTH & VAGINAL REJUVENATION
Gynecological health and comfort are major issues for many women following vaginal childbirth and menopause. Childbirth and aging can lead to excessive relaxation of the vaginal muscles. During childbirth, damage may occur to vaginal tissue which can diminish a woman's sensation while engaging in intercourse. This may lead to a reduced libido, can negatively impact sexual gratification, and affect relations between partners. As women approach middle age and hormones change, vaginal tissues may also weaken and become dry, leading to unsatisfying, even painful, intercourse.
Colorado Laser Spa uses innovative laser and radiofrequency treatments to help women overcome vaginal health issues caused by childbirth, menopause, and/or hormone imbalances. Through the MonaLisa Touch® laser treatment and radiofrequency therapy with the TempSure™ Vitalia, our board-certified gynecologist, Dr. Sherry Niccoli, can treat many of the negative effects of childbirth and aging to improve your total wellness through vaginal rejuvenation. Our laser treatments and radiofrequency therapy improve female pelvic health by treating symptoms related to or resulting from:
Childbirth
Menopause & Hormone Imbalance
Urinary Incontinence
Sexual Function
Vaginal Laxity
Vaginal Atrophy
Hysterectomy
Chemotherapy
VIP Club Members receive exclusive special offers, skin care tips and more. Sign up to be in the know! Your first surprise VIP offer will immediately be sent upon signing up!
The MonaLisa Touch® is a gentle fractional CO2 laser that delivers pulses of energy to targeted vaginal tissue. The laser's hand piece is inserted into the vagina, delivering controlled pulses of energy to the tissue. This non-invasive, out-patient procedure requires no anesthesia and little to no downtime so you can immediately return to your normal activity when leaving our med spa. Patients typically report only mild discomfort during the short, five-minute procedure.
Pulses of energy from the MonaLisa Touch® laser increase local circulation, generating new collagen, elastin, and vascularization. As a result, the MonaLisa Touch® procedure improves the firmness, elasticity, and lubrication of the vaginal wall leading to improved vaginal health and sexual relations. This leads to a decrease in pain and muscle spasms in the vagina. These non-ablative treatments performed in our advanced aesthetics medical spa also result in an improvement in vaginal tightness and incontinence issues.
In both U.S. and European clinical trials, women reported symptom relief after their very first treatment and reported even more improvement after subsequent treatments. For optimal results, we recommend a minimum of three monthly treatments with an annual maintenance treatment to retain your desired results. The cost of treatment depends on how many treatments you undergo and how frequently you have them. Women who are pregnant, menstruating, or have had abnormal pap smears should not be treated with the MonaLisa Touch®
Is the MonaLisa Touch right for you?
For many women suffering from:
vaginal atrophy
pain
looseness
dryness
burning itching
urinary tract infections (UTIs)
incontinence
MonaLisa Touch has proven an effective treatment option for restoring woman's vagina closer to their natural state by stimulating the collagen and healthy tissue production in the vaginal walls with a laser treatment probe, treating any damage or deficiencies caused by a lack of estrogen.
What is vaginal regeneration?
Some women who've experienced vaginal childbirth say that they just don't feel the same afterward, but even women who've never given birth experience vaginal dryness and changes to their vagina as they age.
While vaginal problems can range from irritating to life-altering, no one wants to experience pain or discomfort in their most intimate areas. Dr. Niccoli can provide Vaginal regeneration therapy using the MonaLisa Touch, a pain-free way to heal the vaginal canal and improve your quality of life without anesthesia, incisions, or recovery time.
This process of regeneration induces the vaginal tissue to become thicker, tighter, and more elastic while restoring moisture and natural lubrication. Women can sometimes notice a difference after their first treatment, although significant improvement is typically seen after three sessions.
Vaginal regeneration treatment provides relief from:
Painful Dryness
Vaginal Laxity
Vaginal Atrophy
Mild Incontinence
The MonaLisa Touch procedure offers significant advantages over current treatment options as it addresses the issues that cause vaginal atrophy, providing relief for the Loss of:
Elasticity
Moisture
Stretch
Painful Intercourse
Urinary Tract Infections
Bladder Control
The MonaLisa Touch Restores:
Fullness
Lubrication
Volume
Tightness
Thickness
Increased Elasticity
Restore Pelvic Floor
Tempsure Vitalia Radio Frequency
In addition to our MonaLisa Touch® laser treatments, Colorado Laser Spa employs radiofrequency therapy for vaginal rejuvenation with the TempSure® Vitalia.
The TempSure® Vitalia delivers precise heating for smaller, hard-to-reach areas in the vagina to temporarily increase circulation, leading to a decrease in pain and muscle spasms. Vaginal tissues are tightened and become firmer through soft-tissue coagulation and the stimulation of new collagen, elastin, and vascularization.
Therapy with the TempSure® Vitalia is a non-invasive, non-ablative treatment. This type of treatment is well-tolerated and requires no anesthesia. That means no recovery time and most patients resume their normal routine immediately following therapy with the TempSure® Vitalia. Radiofrequency therapy is a terrific anti-aging tool to improve your total wellness and address vaginal changes following childbirth.
HOW RADIO FREQUENCY TECHNOLOGY WORKS
Want to take advantage of our best treatments so you can see your results NOW?
Want it with an affordable payment plan?
Check our our Financing Options with Greensky, (including 0% Interest for 12 months!) Click the button to find out if you qualify.